2023 FESTIVAL LINEUP
Loreena McKennitt
Canada
Multi-award-winning Canadian singer-songwriter and musician, Loreena McKennitt, was inducted earlier this month into the Canadian Songwriters Hall of Fame – she will be returning to her roots performing some of her early, most traditional Celtic songs for one night only on Saturday, August 12. A rare occurrence for the international artist, who will be presenting a 60-minute set largely featuring her early repertoire of traditional Irish songs.
McKennitt's eclectic Celtic blend of pop, folk and world music has sold over 14 million albums worldwide. Her recordings have achieved Gold, Platinum and multi-Platinum status in 15 countries on four continents. She has twice been nominated for a GRAMMY® Award and has won two Juno Awards, as well as a Billboard International Achievement Award.
Ryan Young
Scotland
2022 BBC ALBA 'Musician of The Year' nominee Ryan Young brings new and exciting ideas to traditional Scottish music, receiving international praise for his spell-binding interpretations on the fiddle. Focussing on traditional Scottish music, Ryan brings new life to very old, often forgotten tunes by playing them in his own unique way. His fiddle playing is brimming with fresh melodic ideas, an uplifting rhythmic drive and a great depth of dynamics and precision. His sound is very distinctive and takes the listener on an emotional and adventurous journey in any performance.
Morgan Toney
CANADA
Music's an almost alchemical force to Canadian Mi'kmaq fiddler and singer Morgan Toney. In just a short amount of time, Toney's been able to invigorate both the Atlantic music communities and Mi'kmaq communities by bringing together the fiery fiddling of Cape Breton Island with the old songs of the Mi'kmaq, one song dating back up to 500 years. He calls this fusion Mi'kmaltic (Mi'kmaq + Celtic) and it's his way of celebrating his language and heritage. He's honoring the elders who've taught him the songs and the language, and he's taking his place on the front lines of Eastern Canada's cultural divide.
Goitse
Ireland
The popular and multi-award-winning quintet Goitse was forged in the white-hot creative crucible of Limerick's Irish World Academy. Goitse has released five critically acclaimed recordings and maintains a year round touring schedule that includes performances throughout Ireland and the UK, Germany, France and the United States. Their distinctive sound lies in the quality of their own compositions interspersed with traditional tunes from the countryside of Ireland and abroad, which make each performance unique.
Bon Débarras
Canada
Bon Débarras unites the worlds of music, dance and poetry through a collaboration between Montreal artists Dominic Desrochers, Jean-François Dumas and Véronique Plasse. Over the years, Bon Débarras moved boldly into an entirely original repertoire steeped in poetry and rhythmic sounds, with unambiguous Quebec flavors. On guitar, banjo, violin and harmonica, the group carries an identity, a style and an energy-filled zest for life quite unique and beautifully served by the versatility of the musicians as well as their daring jigging and vivid body percussion. Bon Débarras' energy taps into the rhythms of today and ventures boldly on the multi-faceted road to tomorrow's dreams, in an atmosphere that transcends boundaries and ages.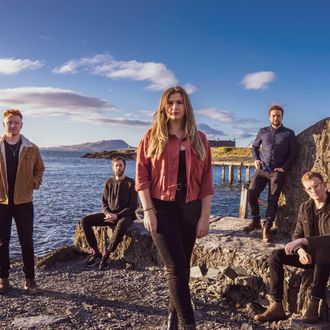 Heron Valley
Scotland
Heron Valley are an energy fuelled, traditional band from Scotland. Their roots lie in Scottish and Irish traditional music, including traditional Scots song and Scottish piping tunes and irish banjo.
Coming from vastly different areas of Scotland (Oban, Lewis, Cowal, Glasgow and Stirling ) you are sure to hear an excellent story or two from Heron Valley, and maybe even some Scots language lessons!
Cassie & Maggie
Canada
Nova Scotian sisters Cassie and Maggie have been lighting up the world with their unique blend of traditional and contemporary Celtic instrumentals and vocals. Appearing on stages across North America, the UK, and Europe the sisters have enchanted audiences far and wide with lively fiddle, piano and guitar arrangements, stunning sibling vocal harmonies in both English and Gaelic, all complemented by their intricate and percussive stepdancing style.
The Murphy Beds
USA
Eamon O'Leary and Jefferson Hamer (aka The Murphy Beds) present traditional and original folk songs with close harmonies and deft instrumental arrangements on bouzouki, guitar, and mandolin. In 2021 they released their second album, titled "Easy Way Down", which The Irish Echo called "an incredible collection of songs delivered with grace and ease." 
Steáfán & Saskia
Canada
Saskia from the UK, & Steafan from Ireland, moved to Canada in 2007 with 3 children and over 800 instruments! After 22 years of playing together, and many sessions under their belt for other people, Steafan & Saskia released their first duo album called "Moorchild" in 2017. 
Between them, Saskia & Steafan have played with thousands of artists both live and recorded and have been session musicians on TV shows which include Relic Hunter, Earth Final Conflict, Murdoch Mysteries, Friends (the one with Ross's Wedding!). Together they worked on developing the Celtic music for the hit Broadway show "Come from Away".
Simon Mayor & Hilary James
England
If this duo have a speciality, it is an ability to combine a truly diverse array of talents into a hugely entertaining stage show. there can't be many performers who slide easily from a beautifully evocative Irish ballad into a mandolin and guitar version of Handel's Arrival of the Queen of Sheba, and then have the audience singing one of their own notoriously comic children's songs, but it's this wry sense of humour and an easy, informal stage manner that holds it all together.